Effective communication
Kakulas Legal meets regularly and communicates clearly to ensure that our clients are fully informed at all times.  We make ourselves accessible to address concerns and answer our client's questions.
Our senior lawyers usually see clients every three months throughout your claim keeping both you and us informed as to what's happening. Many firms rarely meet their clients.
We offer telephone interviews where appropriate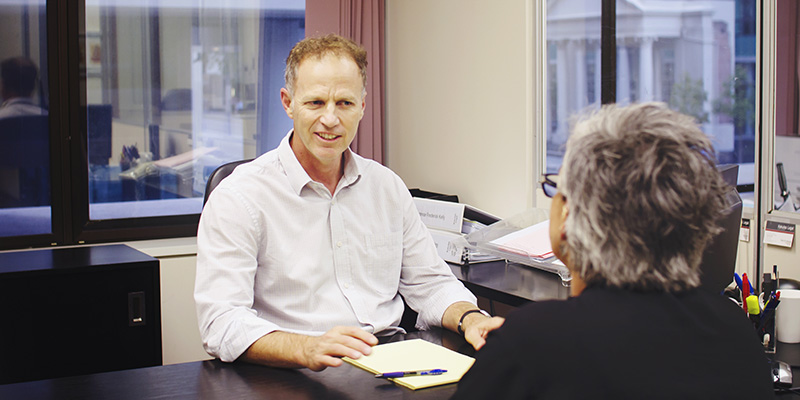 Excellence
We are committed to ensuring that our clients receive maximum compensation with an excellent and cost effective legal service.
Honesty and Integrity
We are truthful and sympathetic in our dealings with our clients at all times.  We always conduct ourselves in an ethical and professional manner.
Respect
We treat our clients with respect and consideration and as individuals not a file.
Client Focus
We are genuinely dedicated to helping injured people and strive to make a positive difference to their lives.
Each client is important to us and we strive to be as accessible and friendly as possible while providing you with clear, accurate and affordable advice.
Teamwork
We focus on a common goal and recognise the importance of working well between our staff and together with our clients so they may benefit from the firms considerable experience, knowledge and resources to achieve excellent outcomes.
Director Involvement
We ensure that there is close involvement with Peter B. Kakulas in every matter.
To complement the legal services of our specialist lawyers, Kakulas Legal frequently retains senior and well respected barristers to assist in legal proceedings.
A number of solicitors do not assess damages and rely on a barrister only to assess the claim.  Peter B. Kakulas supervises and assesses every claim and will provide you with his opinion of your damages before you see a barrister.  Only the most experienced barristers are briefed to provide you with an independent second opinion